Map of Bełchatów about 1910
Nowy Rynek 23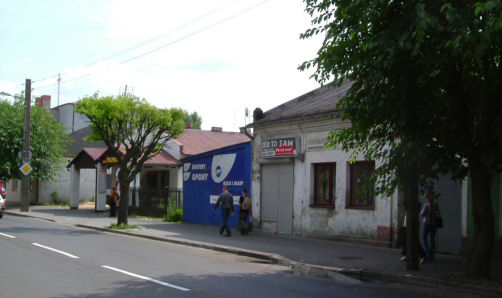 Building at far left
History of the Cudek Piaskowski House in Belchatow,
based on the documents Ksiega Hipoteczna pow. Belchatow No 140, (archive in Piotrkow)
The small one-story house was situated on Nowy Rynek No 23 (corner of Nowy Rynek – now Plac Wolnosci and Dabrowskiego)
and still exists. The neighboring house on the left belonged to Daniel Kling, the property behind - to Jan Krauze.
The following information could be found in the papers:
The house was confiscated by the Reichsführer SS on September 17, 1940, after the death of the owners, Cudek Piaskowski,
son of Fajwel and Krajndla Piaskowska, daughter of Jukiel Nowak and Frajdla nee Hrapot) on June 15th, 1940. (He was 84 years old, she 86).
The granddaughter of Cudyk Piaskowski, Ruchla Kopel, daughter of Moszek, living in Lodz, Zawadzka Street 18, signed in 1946 a
power of attorney for the building administrator, a certain Ignacy Kronenwald, citizen of Lodz, Zeromskiego Street 29.
The Belchatow book of residents (1910-1930) gives following information about the persons living there:
- Cudek Piaskowski, born September 12th, 1849 in Belchatow, weaver, son of Pawel and Nachma Szlam,
- his wife Krajndla nee Nowak, b. December 1st, 1847,
- his daughter Estera, b. 1888,
- his son Fajwel, b. August 11th, 1974 in Belch. (married to Dwojra Lewkowicz, b. 1885 in Lodz)
…….their children: Cuchan Lajb, b. 1908,
Jakob, b. 1911,
Estera Frajdla, b. 1922.
- his son Abram Ajzyk, b. 1876 (married to Estera Hudesa Fugottman, b. 1880)
- his son Moszek, married to Hinda Laja Zylbersztajn, b. 1892 Radomsko
their children: Jakub, b. 1923, Eta, b. 1920, Szewa, b. 1925
More information on www.shtetlinks.jewishgen.org/Belchatow/