The
Story of the Family Horn
For centuries many small towns in the Sandomierz region have owed their development to their location on trade routes between Cracow, Lublin, and Warsaw, mostly along the river Vistula. This is probably the reason why many Jews settled there.
<![if !vml]>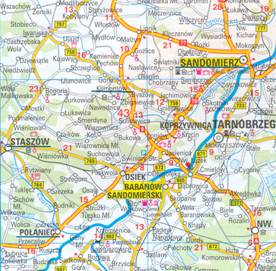 <![endif]>
A shtetl named Polaniec (Yiddish "Planch") is a good example. Throughout history it has been known for the Polaniec Manifesto proclaimed there after the victory of the Polish uprising of 1794 against Tsarist Russia. Only a few people know that Polaniec is one of the oldest settlements in Central Poland (mentioned already in the 12th century!) and as such has been very well documented in various historical sources. The information is not only to be found in archives, but nowadays also on the internet on both English and Polish Web sites. Based on this, an exciting picture not only of the political events but also social aspects of the ancestors lives becomes visible. In one document, over 100 Jews were quoted by name as residents in the middle of the 18th century. They all lived around the Old Market (Rynek) in small houses, with the first room used either as a shop or a handicraft working room. The family of Matys Horn, who was a butcher by profession, probably belonged to them.
However, when the river Vistula became a natural border between Russia and the Austrian Empire after the final partition of Poland in 1795, the good life in Polaniec came to an end. Besides this, events such as floods, fires, epidemics, and acts of war were normal at that time. Matys' son Herszla died unmarried in 1835; his daughter, Marya Fajga married in 1832 and died the next year, probably while giving birth. However, Abus and Moszek, who also got married in the 1830s, had big families with 11 and 8 children respectively. Some of them died as infants due to various illnesses, incurable at those times, as well as poor living and hygienic conditions.
<![if !vml]>
<![endif]>
Polaniec was a typical shtetl with a synagogue, Jewish schools, cemetery, and other typical institutions important in Jewish life. Most of the 600 Jewish inhabitants were Hassidim. The small wooden synagogue was destroyed by fire toward the end of the 19th century. At least a photo has survived (see left). A later building of a cheder in Polaniec, the school for boys, still exists.
Abus HORN married a young orphan girl, Gitla nee Rozenfeld, in 1832 in Polaniec. Like his father, he also became a butcher. Their son Icek was born as the second child in 1835. Icek HORN married Mirla Goldflus in 1855. Her family had lived in Polaniec for generations. Both were very young, Icek was 19, and Mirla 17 years old. Their first child, a girl named Haja Sura, was born there in 1860. At the time the seniors of the family, Icek´s grandparents, were already dead (Szandla in 1842, Matys 1854 at the age of 95!). Shortly thereafter the young family moved to the larger town of Staszow (some 10 miles away), where other Horn and Goldflus relatives lived. Their first son, Herszel Cudyk, was born there in 1862.
The Jewish population of Staszow was bigger than in Polaniec but the competition among the artisans was also big. There were 18 Jewish butchers in Staszow at that time (for about 3,000 Jewish residents of Staszow, more than 60% of the entire population). Maybe a reason why Icek now became a merchant. Neither the political situation (the national uprising of 1863 against the Russian occupants brought several fights in this region), nor the social conditions were good. Great suffering, distress and loss of lives were caused to Staszów's population during the cholera epidemics (1821, 1893), and the fires (specially in 1854, 1874), which destroyed many houses, and any economic life or development was paralyzed for a considerable time. More details about the daily life are published on the following Websites:
http://www.jewishgen.org/Yizkor/staszow/staszow.html
<![if !vml]>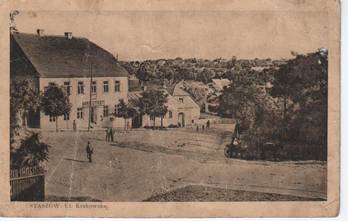 <![endif]>
<![if !vml]>
<![endif]>
(two pictures from old Staszow)
The other part of the family, the Brauners, had lived for generations in Klimontow, another shtetl, some 20 miles away from Staszow. The Jewish settlement there goes back to the 17th century when Klimontow received the privilege to organize weekly markets. Josef Brauner was a inn keeper when his son Herszla was born in 1832. Josef and his wife Ryfka died quite early because Herszla was already an orphan when at the age of 28 he married his wife Zelda Rozengarten, who also was from Klimontow and also an orphan. Due to the cholera epidemic in 1855, many Brauner relatives died.
Pesla Brauner, daughter of Herszla and Ryfka, was born in 1870. The old synagogue of Klimontow, where they prayed, was built in 1851 and still exists (newly renovated after significant destruction during WWII; see below).
<![if !vml]>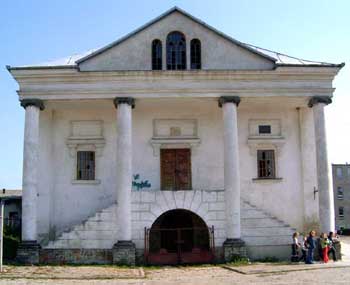 <![endif]>
When Pesla Brauner married Herszla Cudyk Horn 1890 in Staszow, the living conditions worsened again, and the newly weds joined the wave of thousands of Jewish emigrants a couple of years later and decided to travel to the United States of America.
(The story was a result of my genealogical research made at the arfchive in Sandomierz, Poland, 2006).