Map of Bełchatów about 1910
Dwor Olszewskich (mannor of Olszewski family)
The mannor from early 18th. century was errected as a residence of the owners of Belchatow, Stanislaw and Franciszek Rychlowski. The late
barock building was surrounded by a park. Next owners, family Kaczkowski, rebuilt it and enlarged. Kaczkowski was very modern and good manager
of the town. He errected many social buildings, sponsored schol etc. He also allowed Jewish emigrants from Prussia to settle down, what in the
final helped to establish a weaving industry and brought the prosperity to town. The mannor (or palace) was bought 1943 by Dr Waclaw Olszewski.
After a fundamental renovation 1998, the building became a site of a Regional Museum.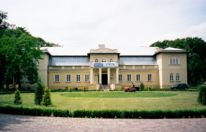 More information on www.shtetlinks.jewishgen.org/Belchatow/